In a little less than a week, Alicia A. Willis's newest book will hit the virtual shelves. Rising to the Challenge, the much-desired finale to her series The Comrades of Honor, is set for release on Monday, January 26!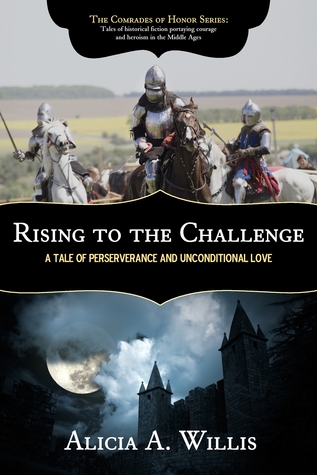 New difficulties arise for Sir Kenneth Dale in the exciting final installment in The Comrades of Honor Series. As a favorite of the Earl of Birmingham, his life appears tranquil – until the both beautiful Lady Clarissa and a headstrong orphan named Brion arrive in the castle. It is not long before Sir Kenneth finds himself not only in love, but also the master of the most difficult squire Birmingham has ever harbored.

Brion de Lantenac is nothing short of rebellious. Hatred for Sir Kenneth's strict rules vents itself in constant disobedience, triggering continual clashes between himself and his new lord. But there is a reason behind his self-centered character. The murder of his family has caused heartbreak he may never recover from. Will he ever reveal his true identity to Sir Kenneth? And what about Guthrie, the man who sullied his father's shire with treacherous hands and now seeks his demise?

Caught between a hopeless romance, a rebellious squire, and the enemies on all sides, Sir Kenneth finds himself challenged. Amidst battles, heartache, and dark mystery, he must somehow rise to meet the difficulties of his life with honor. Will he ever win his squire's heart? Will he and Clarissa be forever separated?

Join Sir Kenneth, Brion, and all the comrades of honor in a tale of perseverance, chivalry, and unconditional love. Treachery abounds and evil seems insurmountable. Will rising to the challenge preserve honor and win the day?
I had the pleasure of beta-reading this exciting book ... it was fantastic in more ways than one! Check it out on Goodreads and stay tuned there and on other social media sites for its debut. And at the end of this post is a giveaway!
Today, I am pleased to participate in the celebration by interviewing the author. Please join me in welcoming Alicia A. Willis!
Alicia A. Willis is a home-school graduate, published author, and avid historian. She is a firm believer in the principle that one can accomplish anything by substantial amounts of prayer and coffee. Visit her at her blog or Facebook to view her historical-fiction novels and all the goings-on between writing! She is the author of six books, including this one! You can also visit her website.
1. The first book in the Comrades of Honor series, To Birmingham Castle, was also your first ever published book. What are some of the most valuable things you've learned about life and/or writing between these two books?
That's a good question! I've learned so much, both about writing and life. Regarding life, being an author has really helped me be real – to express my thoughts and ideas openly, allowing myself to share who I am and who I am becoming with others. Regarding writing, I've learned that I have two styles: my classical style, in which I wrote my medieval series, and my modern style, in which I wrote my other titles. It is an exciting adventure to have varying writing styles and helps me ensure that my work is always different each time.
2. Those are great answers! Very interesting. How was writing Rising to the Challenge harder than the first two books in the series? How was it easier?
This title was much more difficult than the previous two installments. This was mainly because of historical issues. Historians disagree on certain points, which made research difficult. Also, I wanted Sir Kenneth Dale to be very real for his time period, but still demonstrate character points such as mercy and honor. Balancing the historical and character building aspects was a challenge!
3. That does sound like a challenge, but you rose to it and I found this title to be really enjoyable and satisfying!
Before you begin a story, do you outline extensively, dive right in to chapter one, or do something somewhere in the middle? Why does this work well for you?
I'm somewhere right in the middle. I have a general idea of where I am going, but not a strict outline. I'd say that my outline is in my head. That way, I have the ability to be creative and allow for scene or plot changes that I had never anticipated, but my mischievous characters demanded…
4. Flexibility without chaos is good! What strategies do you use to keep going when the writing gets tough?
Prayer, coffee, chocolate, and repeat.
5. That makes me smile! It's certainly effective for you. What is your favorite thing about writing?
Expressing my thoughts or teaching a life lesson through a fictional character! I also love the research.
6. Great answer! It sounds like your family members are very supportive of your writing. Do any of them have a favorite out of the books you've written? What is yours, and why?
My favorite is From the Dark to the Dawn. It is also my boyfriend's favorite. I'm not sure what everyone else's is, though. I love From the Dark to the Dawn because the Lord used it to teach valuable lessons to me. And, now, others are telling me that the book changed their life as well!
7. That's wonderful! I look forward to reading it myself. Would you like to return to medieval fiction someday, perhaps with a new storyline? Can you share with us about any upcoming projects?
Maybe. We will see where the Lord leads! My current WIP is entitled Grace Triumphant: A Tale of the Slave Trade. I hope to release it this year, but we'll see if I can manage that. The research regarding the Middle Passage and life on shipboard is grueling… I anticipate many challenges with balancing historical reality and pure Christian reading.
That sounds spectacular. I'm looking forward to it already! I appreciate how your books are realistic without ever becoming unpleasant. Thank you so much for visiting with us today, Alicia!
And for the giveaway ...
We'll be doing this comment-style, so leave one comment per entry, and they will be tallied up on Tuesday, January 27! The giveaway ends Monday at midnight (which, don't forget, is also release date for Rising to the Challenge!). This will be for a free PDF copy of the book!
5. Leave a comment saying which book of hers you like the most (if you've ready any of them) or you think you would like the most. (This entry requires some research, but it may give you an edge!)
The winner will be announced one week from today, on January 27!